I love teaching Surrealism because junior highers are especially attracted to the weird and trippy nature and they love exploring and creating Surrealist pieces. Plus, Salvador Dali is one of my personal favorites.  Exhibit A:
He's amazing.
Anyway, the problem with Salvador Dali is that his paintings reflect his dreams and his subconscious, which were often quite sexual. So his paintings, are often quite sexual. Which is fine, unless you are a junior high art teacher trying to teach about Salvador Dali.
I went on a youtube quest to find a video clip to show them that would include some information about his life and some of his artwork. When you're an art teacher, teaching art history, educational videos have to be previewed not for relevancy, but for nudity. Paintings, even (especially) really really old paintings, have nudity. Junior highers, cannot handle this. At. All. I can barely say "I have bus duty" to them without them snickering. So I have to have little preview parties with myself where I make a tally of how many times (and at what point) I see nipples. If it's only a couple of times, I can usually scan through quickly or A/V mute the promethean and still show the video. Once I get to an entire post-it of "nip-slips" I have to veto the video entirely. This qualifies for an #ArtTeacherProblems official hashtag because as I was sitting on my couch writing down all the times I saw nipples I realized that the science teacher doesn't have to do stuff like this before showing their video on chemical reactions.
I found this really cool BBC special on Salvador Dali that I highly recommend. It's awesome. It definitely did not pass the "nip slip" test though, so it had to be vetoed. It became glaringly obvious around the point that the narrator was standing in front of the actual painting "The Great Masturbator" (yes, the name it self would have gotten it vetoed) pointing out and analyzing all of the sexual connotation including the nose to junk situation in the corner…which was, because the painting is gigantic, about the size of the narrators head. Because this is the internet and not my Junior High classroom, here it is in all it's glory:
So I found a really cool Brain Pop clip to help with my introduction to Surrealism, and then I found a VERY kid friendly Salvador Dali video here: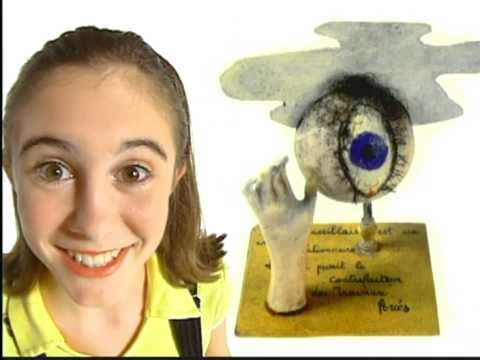 Pretty cheesetastic but gloriously nipple-free.
The video also suggested this cool Surreal exercise called "Exquisite Corpse" which I used as a warm-up the next day. I broke them into groups of 4 (there was one group of 5 but it still worked) and gave them a 12×18 piece of paper that they folded into 4 sections. Without looking at any of the other sections, each kid in the group had to draw a part of the body. They knew where to start in the next section because they continued the line a mm into the next section. The kids LOVED it and their creations turned out so cool.
Then we did a collage project where they created a Dali Style surrealist scene out of "found objects" in magazines. They were tasked with putting together common things in uncommon ways.
We also did a series of surrealist style warm-up drawings. You'll notice many of them involve hands. That wasn't on purpose…but it became a running joke to announce that the warm-up was hand related.
Also, shout out to Trina Carter for a couple of those warm-up ideas!
We finished the unit with a clay surrealism assignment to create a surrealist creature.