I am not going on a crazy cleanse like usual this year just refocusing on making healthy choices. Wanted to share a few great recipes i have found in from Dr. Weil's True Foods cookbook.
I made this Tuscan Kale Salad for lunch this week and it was shockingly delicious for how simple the recipe was. I don't think anyone goes in for a bite of Kale and says this is going tot taste great, but this simple salad is super tasty.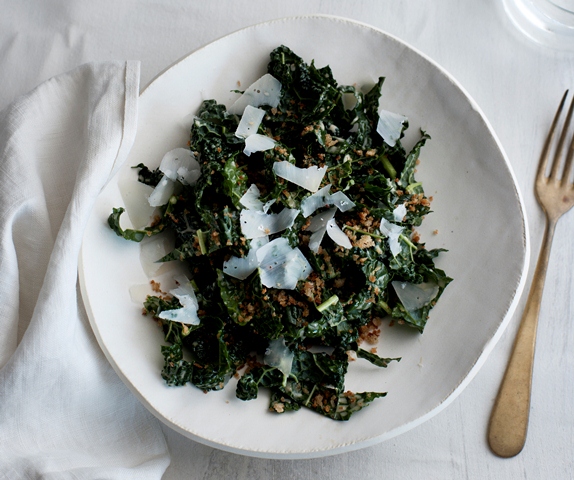 Tuscan Kale Salad
4-6 cups kale, loosely packed, sliced leaves of Italian black (Lacinato, "dinosaur," cavolo nero) midribs removed
Juice of 1 lemon
3-4 tablespoons extra-virgin olive oil
2 cloves garlic, mashed
salt and pepper, to taste
hot red pepper flakes, to taste
2/3 cup grated Pecorino Toscano cheese (Rosselino variety if you can find it) or other flavorful grating cheese such as Asiago or Parmesan
1/2 cup freshly made bread crumbs from lightly toasted bread
Whisk together lemon juice, olive oil, garlic, salt, pepper, and a generous pinch (or more to taste) of hot red pepper flakes. Pour over kale in serving bowl and toss well. Add 2/3 of the cheese and toss again. Let kale sit for at least 5 minutes. Add bread crumbs, toss again, and top with remaining cheese.
Food as Medicine:
Kale is among the most nutrient-dense commonly eaten vegetables. One cup provides 1,327 percent of the Daily Value (DV) for vitamin K, 192 percent of DV for vitamin A, and 88 percent for vitamin C.
I am also making this dish for dinner this week from the book:
Panang Curry with Tofu