DISCLAIMER: I am warning you now, this post is going to be long because there are just too many cute things to show you guys and I couldn't decide. Bear with me.
So as you all know by now I spent last weekend up at my best friend Brittany's new house in Sacramento celebrating my god-daughter LOLA's 1st Birthday. Her Mom and I have been working for months to craft and collect all sorts of goodies for her party.  Britt's new pad is idyllic, situated on 10 acres in the country. It has a gigantic front yard and tons of wildlife all around it.
The rained out yard:
We had planned for a big outdoor party with about 50 people, the problem being, that the weather did not agree to our plans and decided to cast rain upon us ALL DAY. So we did what any party hostesses would do and begged all the Dad, Husband, and Friends to hang tarps off the porch to give us some use of the outdoor space.  So the glorious sunny pictures of kids running on the lawn did not occur, but we still had a great party.
THE BIRTHDAY GIRL
THE DECORATIONS
I designed the printables for the party myself and got this poster printed by Snapfish.
There were tons of amazingly adorable pictures that we couldn't decide on which ones to display so then we just started trying to find ways to display them all…thus this was created:
Brittany had taken monthly pictures of LOLA as she grew and we did a display of them all in order so you could see all the changes that happened during the last year.
Remember these? LOLA would just point and giggle at these every time she looked at them.
We planted these succulents the night before in some glass containers from the dollar store.
We went to TJ's and bought a selection of white, orange and yellow flowers to arrange in mason jars for the tables.
Brittany sewed this adorable Rainbow fabric bunting that we hung all over the house.
The wow factor of the party was definitely this photo backdrop that Brittany's crafty Mom, created:
THE FOOD
For the party we served appetizers, lunch, and dessert.
For the apps we had: Fruit Skewers, Deviled Eggs, Veggies, Caprese, Chips and Garbage Dip.
We served Pink Lemonade, Raspberry Punch, Wine, Champagne, and beer for the big kids.
The desserts were all Brittany and being the ambitious woman that she is, she decided to take on homemade cake pops. Fast forward 2 days, at least $80 later, and endless frustration and we ended up with about 20 cake pops. This was a huge PITA.
Britt also made this amazing layered Jello dessert.
There was also cake for all, including little LOLA's smash cake.
Are you guys ready for some cuteness?
Smash Cake Success.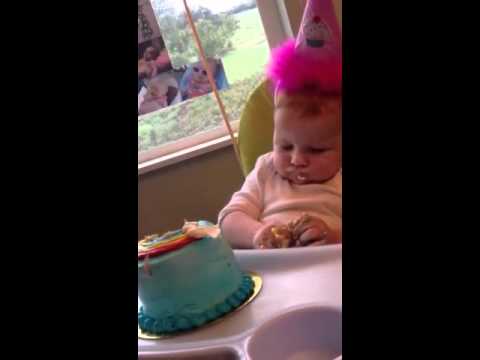 Now the only thing left to show you guys is the millions of fun rainbow backdrop pictures we took. Ok, Ok, I will try and narrow it down.
(My other BFF Bianca is also pregnant)